At Deep Isolation, we believe that listening is one of the most important elements of a successful nuclear waste disposal program. A core value of the company is to seek and listen to different perspectives on the matter of nuclear waste, nuclear energy, and disposal solutions.
We have created this series to interview experts and stakeholders that represent different aspects of these issues. Our hope is to bring you a clearer picture of Nuclear Waste: The Whole Story.
Episode 1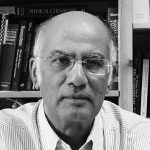 Arjun Makhijani
President of Science
Matters, LLC

Nuclear Waste Disposal Difficulties Plague the Industry
In this episode, Arjun Makhijani, an electrical and nuclear engineer, speaks candidly about the weaknesses of various nuclear waste disposal methods.
Episode 2
Rod McCullum
Senior Director, Used Fuel and Decommissioning
Nuclear Energy Institute
Disposal Impasse Impacts the Future of Next Generation Reactors
In this interview, Rod McCullum offers an insider's perspective on commercial nuclear waste disposal and explains why any failure to solve this problem could threaten the development of the next generation of nuclear energy reactors.
Episode 3
Thomas Webler
Research Fellow, Social and Environmental Research Institute and Associate Professor of Environmental Studies
Keene State College
Community Consent is Key to Waste Disposal
In this interview, Tom Webler, an expert in community consent and how it relates to nuclear waste disposal, shares how stakeholders play a critical role choosing a site for nuclear waste disposal.
The opinions expressed in these podcasts are those of the participants and do not represent Deep Isolation's position.
About our Hosts
David Hoffman
Emmy Award-winning documentary filmmaker and Advisor to Deep Isolation
Kari Hulac
Communications Manager for Deep Isolation and former daily news journalist.